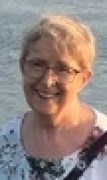 Brookfield - Marguerite E. (Sanders) St. Amand, 70, of Brookfield died Sunday, May 3rd 2020 at the Hospice of the Fisher Home in Amherst.

Her husband of 40 years, Ronald St. Amand died in 2013. She is survived by her brother-in-law, Mark St. Amand and his wife, Jan. She also leaves Tom Miville who she considered her brother and whose family she resided with for several years prior to her marriage.

She was born in Worcester, the daughter of Bernard and Marguerite (Lavallee) Sanders; and was a graduate of the former Worcester State College and the Massachusetts College of Pharmacy and had been employed as a pharmacist for several area hospitals. She enjoyed tending to her garden, shopping on QVC and time spent with her companion dog, Tootsie.

The family wishes to extend their heartfelt thanks to the staff of the Hospice of the Fisher Home for the care and compassion provided to Marguerite during her stay.

O'Connor Brothers Funeral Home is assisting the family with arrangements which are private. A Celebration of Life will take place at a later date. oconnorbrothers.com.


Commentaire

Son époux, Ronald St. Amand, était le fils de Francis St-Amand et de June A. Conger; le petit-fils de Joseph St-Amand et de Marion Drolet; l'arrière-petit-fils de François St-Amand et d'Emma Desjardins. Ronald est un descendant de Michel Lebrette dit St-Amand.