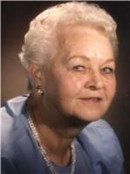 Seward (New Haven) - Dorothy Vernon St. Amand, 88, passed away peacefully in her sleep on March 7, 2020, in Seward.

Dorothy was born in Rockford, Washington, on May 23, 1931. In the summer of 1949, Dorothy moved to Alaska which became home for her. Soon after moving to Alaska, Dorothy met the love of her life, Loren St. Amand. The two married in Fairbanks on Sept. 8, 1950, and resided in Fairbanks, Valdez and Copper Center. They remained married for 52 years, until Loren's death in 2002.

Dorothy was a talented woman who enjoyed many crafts such as knitting, sewing, baking, gardening and berry picking. She was always helping her children and grandchildren with activities and teaching them her trades as they grew. Dorothy was an unbelievable cook and seamstress. Those close to her know there has never been anything as delicious as Dorothy's lemon meringue or apple pie as she could work magic in a kitchen.

She was a wonderful mother, grandmother and great-grandmother and will be deeply missed by those who knew her.

Dorothy was a member of the Mt. Drum Lutheran Church in Copper Center and Women's Pioneer Igloo of Valdez.

She is survived by her children Larry and his wife Maureen of Copper Center, Alfred (Louie) of Fairbanks, Jacque of Copper Center, her 10 grandchildren and her 22 great-grandchildren. Dorothy was preceded in death by her husband Loren, brother Elvin Graves, Daughter Debra Harnden, and two grandchildren Daniel and Levi Harnden.

A memorial for Dorothy will be announced at a later date.


Commentaire

Son époux, Loren Louis St. Amand, était le fils de Cyrias St-Amand et de Mabel Berg; le petit-fils de Zéphirin St-Amand et d'Angélique Glaude; l'arrière-petit-fils de Basile St-Amand et de Scholastique Mallette. Il est un descendant de Louis André dit St-Amand.