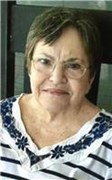 Barbara Ledet St. Amant, 73, a native of Houma and resident of Bourg, passed away surrounded by her husband and children on Dec. 10, 2019.

A visitation will be held in her honor from 12 p.m. until the religious service at 2 p.m. on Friday, Dec. 13, at Samart Funeral Home, Bayou Blue.

She is survived by her husband, Alex "Honey" St. Amant Jr.; daughters, Angel Luke (Tommy), Aimee Detiveaux (Mike), and Annette St. Amant; mother, Eve Ledet; brother, Curtis Ledet Jr. (Dawn); sister, Anita Britt; grandchildren, Bobby J. and Alexis Martin, Alex and Reece Detiveaux; step-grandchildren, Lynsey Pippen and Erin Jones; and numerous nieces and nephews. She was preceded in death by her father, Curtis Ledet Sr., sisters, Bonnie Bonvillain and Marla Theriot; son-in-law, Jeff Garner; brothers-in-law, "Just Bob" Britt and Tommy Bonvillain Sr.; and niece, Dawn Terrebonne.

Barbara graduated with honors from Nicholls State University with a Bachelor's Degree in Elementary Education in 1997. She was also a licensed floral designer. She was a loving wife, daughter, mother, sister, friend and grandmother. She had a smile that always lit up a room. She enjoyed spending time with her family and friends. Music and dancing was her favorite past time.

We all love you, Maw Maw Honey!

Samart Funeral Home of Houma, Bayou Blue LLC is in charge of arrangements.


Commentaire

Son époux, Alex St. Amant Jr, est le fils de Alex St. Amant Sr. et de Cecile Deroche; le petit-fils de Robert St. Amant et d'Azelia Cormier.