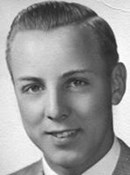 Joseph Adrien Herman St. Amant, 82, of Fort Smith passed away at his home surrounded by his family on July 28, 2019. He was born Aug. 11, 1936, in Madawaska, Maine, to Eric and Evelyn (Douccette) St. Amant.

He served in the U.S. Air Force for four years and then worked at Rheem Manufacturing as a supervisor for 22 years.

Graveside service will be 10 a.m. Wednesday, July 31, 2019, at the U.S. National Cemetery in Fort Smith, under the direction of Ocker-Putman Funeral Home in Fort Smith.

He is survived by his wife of 50 years, Yvonne St. Amant of the home; a daughter, Joanna Copland of Orange, Calif.; four sons, Kenneth St. Amant of Little Rock, Eric St. Amant of Whittier, Calif., and Travis St. Amant and Aaron St. Amant, both of Fort Smith; one sister, Carleen Mingle of Tampa, Fla.; one brother, Louis St. Amant of Durham, N.C.; six grandchildren; and three great-grandchildren.

Memorials may be made to the Alzheimer's Association, 225 N. Michigan Ave., Floor 17, Chicago, IL 60601, or online at www.alz.org.

Online tributes may be made at www.ockerputmanfuneralhome.com.


Commentaire

Il était le fils d'Eric St-Amand et d'Evelyn Doucette; le petit-fils de Paul St-Amand et de Céline Dumont; l'arrière-petit-fils d'Henri St-Amand et de Flavie Beaulieu. Il est un descendant de Michel Lebrette dit St-Amand.