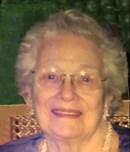 Jeannette St. Amand Beauchamp, 97, of Quail Run Estates, Agawam, passed away on May 1, 2019.

She was born in Chicopee and graduated from Commerce High School in 1940. She lived in Springfield, Baltimore, Northampton, Westfield and Ludlow. She was a salesperson for Stanley Home Products for 37 years. She always described her work at Stanley Home Products as the icing on her cake.

Jeannette was predeceased by Leslie Boughman Beauchamp, her husband of 62 years, her son Louis, sisters Claire Jordan and Jane Letourneau and brother, Paul St. Amand. She is survived by her daughter, Lee Ann and many nieces and nephews.

She was a member of the Laymen's Home Missionary Movement.

A period of visitation will be held for Jeannette on Saturday, May 11, from 10 a.m. to 10:30 a.m. at Hafey Funeral Home, 494 Belmont Ave., Springfield, followed by a funeral home service at 10:30 a.m. Committal prayers and burial will follow immediately after the service at Springfield Cemetery.

In lieu of flowers, please make donations to the Bible Standard Ministries, aka the Laymen's Home Missionary Movement, 1156 St. Matthews Road, Chester Springs, PA 19425.

www.hafeyfuneralservice.com.


Commentaire

Elle était la fille de Paul St-Amand et de Louise Kirouac; la petite-fille de de Théophile St-Amand et de Célanire Gamache; l'arrière-petite-fille de Théophile St-Amand et de Mathilde Marchessault. Elle est une descendante de Michel Lebrette dit St-Amand.