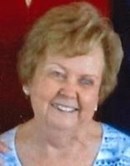 Janet Amy Magill, 76, of Admiralty Drive, Middletown, passed away on Wednesday, March 20th, 2019 at Newport Hospital.

Janet was born in Fall River, MA on June 7, 1942, raised by her loving parents, Stephen and Genevieve (St. Amand) Magill. She is survived by her brother David and his wife Patricia (Janes) Magill of Portsmouth, RI, and nephews Stephen and Daniel.

Janet grew up in Fall River and attended St. Louis Elementary School and Mount St. Mary's High School. After graduation she worked for the R. A. Wilcox Company in Fall River. She then moved to West Haven, CT and began her career in the Finance Department with Herlin Press. After her retirement, Janet moved back to Middletown where she reconnected with family and friends and enjoyed an active membership with former classmates in the St. Louis Grammar School Group. Janet was also a communicant of St. Lucy's Catholic Church in Middletown.

Visiting hours will be held on Monday, March 25, 2019 at the O'Neill-Hayes Funeral Home, 465 Spring St., Newport from 9-10 AM. A Mass of Christian burial will be held at St. Lucy's Church, 909 West Main Road, Middletown, RI at 10:30 AM. Burial will follow at St. Patrick's Cemetery, 2233 Robeson St., Fall River, MA.

In lieu of flowers, donations may be made to St. Lucy's Church, 909 West Main Road, Middletown, RI 02842.

For more information and online condolences, please visit www.oneillhayes.com.


Commentaire

Elle était la fille de Genevieve St. Amand et de Stephen Magill; la petite-fille de Joseph Calixte St-Amand et de Mary Tunney; l'arrière-petite-fille d'Élisée St-Amand et de Florentine Turcotte. Elle est une descendante de Michel Lebrette dit St-Amand.