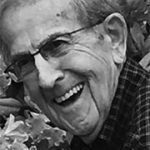 Old Orchard Beach - Leo Paul St. Amand, age 90 of Old Orchard Beach, died Monday Jan. 28, 2019 at Southern Maine Medical Center in Biddeford, Maine after a brief illness.

He was born in Wallagrass, Maine on Feb. 14, 1928, the son of Leo St. Amand and Edna Daigle and moved to Biddeford at the age of 10. Before entering the military, Leo graduated from St. Louis High School. Leo proudly served our country in the United States Army, stationed at Orlando Air Force Base. After military service, he worked for many years as a tool maker for Saco Defense.

He was involved in the community as a member of the VFW Biddeford, The Ross Center, and St. Margaret Church in Old Orchard Beach, and many other organizations. He loved spending time with his family and would always attend his grandchildren and great-grandchildren's activities. He enjoyed walking, biking, skiing, and dancing until his later years. Every morning you would see him having coffee with family and friends at different establishments. A lover of the beach, Leo and his wife enjoyed vacationing in Florida. For his entire life, he was organized in his day-to-day activities, but never lost his quiet sense of witty humor and charming smile that his family loved.

Leo was predeceased by his brother, Mel St. Amand and his son-in-law, Billy Wagner. He is survived by his loving wife of 68 years, Yvette (Dutremble) St. Amand of Old Orchard Beach; two daughters Paulette Wagner of Saco and Nancy Golojuch and her husband Don of Saco; three grandchildren Alysha, Brittney, and Zachary; two great-grandchildren Aryanna and Kaly; and several nieces and nephews.

Friends and family are invited to attend a time of visitation on Friday evening Feb. 1, 2019 from 4 to 6 p.m. at the Cote Funeral Home (87 James St. Saco, Maine). A memorial service will follow at 6 p.m. at the funeral home. Interment will be Saturday, Feb. 2, 2019 at noon in St. Joseph's Cemetery in Biddeford, Maine.

Online condolences can be given to the family at www.cotefuneralhome.com.


Commentaire

Il était le fils de Léo St-Amand et d'Edna Daigle; le petit-fils de Joseph St-Amand et d'Édith Bouchard; l'arrière petit-fils de François St-Amand et d'Euphrosine St-Germain. Il est un descendant de Michel Lebrette dit St-Amand.