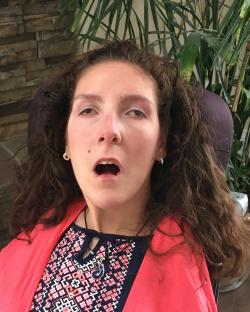 It is with profound sadness that we announce the sudden passing of our beloved daughter, granddaughter and niece, "Rebeka" – at 23 years – on Friday, December 14th, 2018, at the Dr. Georges-L. Dumont University Hospital Centre Intensive Care unit in Moncton. She was surrounded by her loving and dedicated family, caring ICU staff and a longtime best friend.

Rebeka was the precious daughter of Chantal and Nathan Roy, big sister to brothers Alek and Loik, and little sister Karielle; she was a beloved granddaughter to Jaqueline and the late Yvon St-Amant of Moncton, and Charles and Barbara Roy of Shediac Cape. She was a special niece to Robert St-Amant and his wife Marina of Barrie, ON, and Pamela Roy of Shediac Cape.

Although faced with the many challenges of Cerebral Palsy – Rebeka remained determined to live a normal life – fulfilling her dreams with the ongoing support of her loving family and special caretakers. She graduated from High School, was escorted to her Prom; she went on annual holidays to Florida – visiting all the attractions around the Orlando area, and Spring and Fall shopping sprees in Bangor were a "must"! She enjoyed going to films, and novels read aloud to her. She was a Big Brother and Bachelor fan… And having her nails done was a must.

In the summer she loved getting tanned and being in a warm pool while listening to good music and taking walks in nice weather with family and friends.

Rebeka had such a determination to live… through multiple surgeries requiring long rehabilitation, she remained a fighter, but sadly, this time, God called her home to rest. She will be with her grandfather, Yvon, in heaven. All who were blessed to have loved and known her… have truly become better people for it. She is now looking down on us all and she can now finally walk and dance… her heart out.

A Service to celebrate Rebeka's life will be held from Fergusons Funeral Home Chapel, 1657 Mountain Road, Moncton (858-1995) on Thursday, December 20, 2018 at 2:00 pm. Reception following the service in the Funeral Home Reception Centre.

In lieu of flowers, a donation to the IWK Halifax (https://iwkfoundation.org or 1-800-595-2266) would be appreciated by the family. Online condolences for Rebeka may be shared at www.fergusonsfuneralhome.com.


Commentaire

Elle était la fille de Chantal St-Amant et de Nathan Roy; la petite-fille d'Yvon St-Amant et de Jacqueline Plante; l'arrière-petite-fille de Philippe St-Amant et de Lucia Demers. Elle est une descendante de Mathurin Robert dit St-Amant.