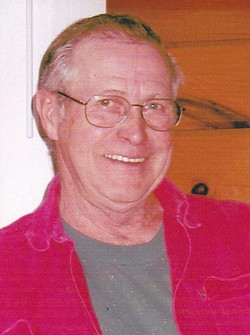 Joseph (Val) St. Amant Sr., 79, passed away on October 21, 2018. He was born in Madawaska on October 1, 1939, son to the late Lorette and Emile St. Amant.

He was the owner and proprietor of Triple J Farms in Fillmore, NY from 1972-1982, and Elm Sheet Metal in Winsted, CT from 1985-2004. He enjoyed hunting, ATV riding, snowmobiling, and spending time with friends and family. He was an avid UConn Huskies and New England Patriots fan.

Joseph (Val) is survived by his four children, daughter, Cynthia Dupre and her husband, Joel, of Canaan, ME; son, Joseph St. Amant Jr. of Varysburg, NY; daughter, Danielle Camping and her husband, Paul, of Caribou ME; stepdaughter, Susan Wright and her husband, Robert of Clinton, ME; brothers, Clarence St. Amant, of Bristol, CT, Paul and his wife, Carlene, of Fairfield, ME, Gene Clavette of Carmel, ME; sisters, Loretta Clavette and her husband, Reginald, of Madawaska, ME; Cecile Ouellette of Bristol, CT, Bertha Daigle of Edmundston, New Brunswick; Jackie Tardif and her husband, Robert, of Van Buren, ME, Diane Clavette of Caribou, ME; sister-in-law, Sherrie Saint-Amant of Boston, MA; eight grandchildren; seven great-grandchildren; many nieces and nephews; and a special great-niece, Valerie. He was predeceased by sisters, Carol Clavette and Rella Cyr; brothers, Emilien St. Amant and Richard Saint-Amant.

His family wishes to extend their thanks and appreciation to Paul Levesque and Mickel Morrow for their caring and kindness shown to him over the years.

A funeral service will be held 11 a.m. on Friday, October 26, 2018, at Lajoie Funeral Home, Madawaska. Family and friends may offer their condolences, prior to the service from 10 a.m. until 11 a.m. at the funeral home. Interment will be held immediately following the service at the St. Gerard Cemetery in Grand Isle.

For online condolences, please visit www.lajoiefuneralhome.com.


Commentaire

Valère St. Amant était le fils de Pierre "Émile" St-Amand et de Lorette Fongemy; le petit-fils de Paul St-Amand et de Céline Dumont; l'arrière-petit-fils de Jean-Baptiste dit Henry St-Amand et de Flavie Beaulieu. Il est un descendant de Michel Lebrette dit St-Amand.