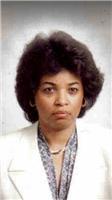 Izette D. Harrison St Amant, 69, of Wells, died Saturday night, September 29, 2018 at York Hospital in York.

She was born in Baltimore, MD on October 13, 1948, a daughter of Isaac Randall and Venus Helena Freeman. She graduated from Forest Park High School in Baltimore MD, and then went on to further her studies in nursing. Izette lived in New Jersey and worked in the medical and nursing fields before branching out on her own and opening a home health nursing agency. Not only was Izette a great nurse, but she was a tireless patient advocate as well. While living in New Jersey, she met her future husband, Alfred "Fred" St Amant, who was nearing the end of a 27-year career in the U.S. Air Force. They married in 1998 and established their home in Wells, ME. Izette loved spending time with her grandchildren, Madison and Cole.

She is predeceased by her parents, Isaac Randall and Venus H. McBride. Survivors include her loving husband Fred St Amant of Wells; her son, Michael K. Harrison of Ft. Lauderdale, FL; her daughter, Dawn K. Stanchina and husband Bob of Easton, PA; her brother, Peter McBride of Baltimore, MD; two sisters, Darlene McBride Chestnut and Yvette McBride, both of Baltimore; and her two loving grandchildren, Madison and Cole Stanchina.

Visiting hours will be on Wednesday, October 3, 2018 from 1:00 p.m. to 3:00 p.m., followed by a Funeral Service at 3:00 p.m. at Bibber Memorial Chapel, 111 Chapel Road, Wells, ME. A Memorial Service and inurnment will be in Baltimore, MD at a later date.

Should friends choose, memorial donations in her name are encouraged to the American Heart Association, 51 U.S. Route One, Suite M, Scarborough, ME 04074.

To share a memory or leave a message of condolence, please visit Izette's Book of Memories Page at www.bibberfuneral.com.


Commentaire

Son époux, Alfred St-Amand Jr, est le fils d'Alfred St-Amand et de Virginie Dubé; le petit-fils d'Onésime St-Amand et de Marie-Anne Gendreau; l'arrière-petit-fils de Joseph Louis St-Amand et de Madeleine Michaud. Alfred est un descendant de Michel Lebrette dit St-Amand.