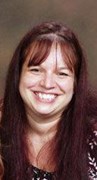 Rosanna Juliette Monterosso, 30, of Elkton, MD, passed away on Tuesday, August 28, 2018.

Born in Wilmington, DE, on Oct. 4, 1987, she was the daughter of Juliette L. (St. Amand) Monterosso and the late Vincent Monterosso. Rosanna graduated from Elkton High School and University of Maryland, where she earned her Bachelor's degree in psychology. She later attended the University of Baltimore Law School. In her youth, she was a Girl Scout and enjoyed playing the clarinet. Rosanna was an active reader.

In addition to her father, Rosanna was preceded in death by her maternal grandparents, Richard and Laureen St. Amand; and paternal grandmother, Janice Palagruto. She is survived by her parents, Juliette L. Monterosso and David A. Palagruto, of Elkton; sons: Devin Christopher Monterosso and Max Alexander Monterosso, both of Elkton; siblings: Vincent Monterosso (Daisy), Frank Monterosso and Domenique Broyles (Tim), all of Elkton; niece, Delaney Monterosso, of Elkton; paternal grandparents, Frank Monterosso, of Bear, and Rose Monterosso, of Staten Island, NY; and paternal grandfather, Domenic A. Palagruto, of Elkton.

A visitation for family and friends will be held from 10 a.m. until 11 a.m. on Tuesday, September 4, at Spicer-Mullikin Funeral Home, 121 West Park Place, Newark, DE 19711, where a funeral service will begin at 11 a.m. Entombment will follow in All Saints Cemetery, 6001 Kirkwood Highway, Wilmington, DE 19808.

To sign guestbook, visit: spicermullikin.com.


Commentaire

Elle était la fille de Juliette L. St. Amand et de Vincent Monterosso; la petite-fille de Richard Gerard St. Amand et de Laureen Lindsay; l'arrière-petite-fille de Gérard St-Amand et de Laura Lanoue. Elle est une descendante de Michel Lebrette dit St-Amand.