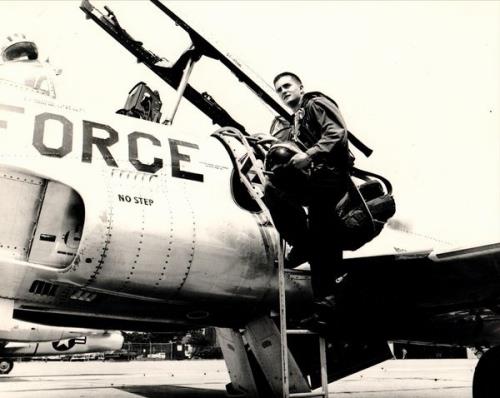 Maj. Richard Thomas Heyart, loving and devoted husband and father, passed away Saturday, May 19, 2018, at Altercare of Big Rapids, at the age of 82.

A funeral Mass in his honor will take place at 11 a.m. on Tuesday, May 29, 2018, at St. Michael Catholic Church in Remus, with Father Michael Burt as celebrant. Visitation will be at the church, one hour prior to the service, and military honors will be conducted immediately following the service.

Richard was born Jan. 3, 1936, the son of Charles Heyart and Beatrice (St. Amant) Heyart, in Wyandotte, and was raised in Ecorse. While in college, Richard joined the USAF ROTC with hopes of becoming a military pilot. Even though he was unable to, Richard found other ways to be of service and became a well-accomplished major in the Medical Service Corps. On July 24, 1965, he married the love of his life, Helen Swart, at Wurtsmith Air Force Base. Since he was serving in the U.S. Air Force at the time, they traveled and lived in various locations throughout Europe and the United States. Richard enjoyed traveling and made various trips to numerous countries around the world including Canada, France, Vietnam (where he served a year), Luxembourg, Germany, Spain and Egypt. He also had a great passion for music, playing the accordion, guitar, ukulele and keyboard.

Being a devout Catholic, Richard was very involved with his church. He also was an active member of the Barryton American Legion.

Richard's caring and compassionate ways will be greatly missed by his son, Richard J. Heyart; brother, Jim and Dorothy Heyart; sister, Bernadine and Barney Witkowski; sister-in-law, Mary Beth Heyart; and many nieces and nephews. He was preceded in death by his parents; wife, Helen, in 2015; and brothers, Charles R. Heyart, and his twin, Robert A. Heyart.

Those desiring may direct memorial contributions to the Knights of Columbus, Albert Doerr Council No. 7869, to the Barryton American Legion or to a charity of their choice. Envelopes will be available at the church.

May Richard Thomas Heyart rest in the peace he helped preserve.

Friends may share a memory with the family at the church or online at JanowiczFH.com.

Funeral Home : Janowicz Family Funeral Home, 469 West Wheatland Avenue (M-20), Remus, MI 49340. 989-967-3464.


Commentaire

Il était le fils de Beatrice St. Amant et de Charles Heyart; le petit-fils de Félix St. Amant et d'Ann Lucretia Labadie; l'arrière-petit-fils de Justi St-Amand et de Marie Gamache. Il est un descendant de Michel Lebrette dit St-Amand.