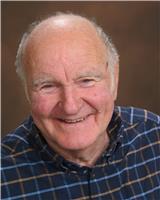 George St. Amand, age 81, of Goshen died May 7, at The New England Health Center.

He was born in Indian Orchard on August 31, 1936, a son of the late Leonard and Isabella Black St. Amand. He was the only person ever officially born in Indian Orchard.

George attend Tech High in Springfield. In 1956 George married Beverly Perkins. They moved to Pasadena, California for a couple of years where George worked for the Department of Agriculture U. S. Forest service building dams and fighting forest fires. He tuned race car engines on the side.

In 1959 he and his family moved back to Massachusetts. They settled at the farm in Goshen where he lived for the rest of his life. George worked a variety of jobs, mainly construction and tree work until he took a job with the VA Hospital in Leeds in 1964. While there, he worked as a nurse's assistant and then transferred to engineering and grounds. He maintained everything from bulldozers to leaf blowers, he drove the ambulance and chauffeured visiting executives. George retired from the VA after 30 years and then worked part time for Industrial Sheet Metal and AccuFab Iron Works. He loved fixing all things mechanical especially tractors and chainsaws.

George attended the Cornerstone Chapel for over 50 years. When they needed a new building, having apprenticed as a home builder, he helped supervise the men in the church and they built it themselves on nights and Saturdays.

He will be missed by Beverly St. Amand (married 61 years), his children Kathi (Steve) Mitchell, Laurie (David) Chadbourne, Jim (Mandy) St. Amand, Sheri (Tom) Halloran, Bonnie (Scott) Worsnop, Beverly (Shannon) Ketch, and Russ and Kelly Papineau, his grandchildren Josh, John, Thaddeus, Jimmy, Rachel, Adam, Rushelle, Alta, Molly, Michael, Reed, Patrick, Thomas, Sean, Emory, and Liam, and his great-grandchildren Clayton, Jaxon, Raelyn, Bella, Ally, and Emily.

Services are being handled by the Ahearn Funeral Home. Calling hours will be held Saturday, May 12, 2018 from 10-11 a.m. at Cornerstone Chapel. The service will be held immediately after the calling hours at 11 a.m. with burial to follow at the Goshen Cemetery on Mollison Hill Rd in Goshen.

Memorial donations can be made to Cornerstone Chapel, 580 Bridge Rd., Northampton MA 01062.

Funeral Home : Ahearn Funeral Home, 783 Bridge Road, Northampton, MA 01060. (413) 587-0044.


Commentaire

Il était le fils de Lucien Conrad "Leonard" St. Amand et d'Isabella Jardine Black; le petit-fils de Moïse Cléophile "Théophile" St-Amand et de Célanire Gamache; l'arrière-petit-fils de Théophile St-Amand et de Mathilde Marchessault. Il est un descendant de Michel Lebrette dit St-Amand.