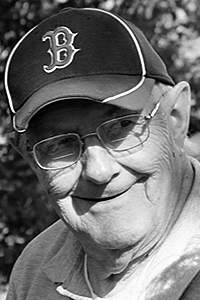 Joseph M. St. Amand, Sr., 84, passed away unexpectedly on Wednesday, Nov. 15, 2017, at the Maine Medical Center in Portland. He was born in Limestone on April 26, 1933, the son of Leon and Eva (Cyr) St. Amand.

Although he only had an 8th grade education, he was the Jack of all trades; he loved to read and he was very intelligent and well informed with what was happening around the world, in his country and in his own community and he loved a good debate.

As a young man, he worked with his father in the woods until he was 18, when he enlisted in the U. S. Navy, during the Korean War conflict. After completing his Navy training for Seaman, he was assigned Seaman Apprentice aboard the Battleship USS Missouri BB-63, the Mighty Mo, until his honorable discharge. Upon his discharge he received the Korean Service, the United Nations Service and the China Service medals. He was a member of the Korean War Veterans, the Veterans of Foreign Wars of the United States, the American Legion Veterans Memorial Post #205, the Fraternal Order of Eagles #3137, the AMVETS Post #14 and the 2014 Bronze Leader of Maine Disabled American Veterans (DAV). He was dedicated to God and Country.

After his discharge from the Navy, he worked several jobs including employment with Capital Lumber as a driver and a laborer and with the Edwards Division of Bates Manufacturing Company as a weaver, until an injury disabled him.

He married Pauline Harrington Fraser in 1954 and they raised their children in Windsor for many years. He was very much involved in the community coaching the local youth, from t-ball to high school baseball and what a record he held. His other passions were spending time with family, being outside, hunting, fishing and most of all a jokester and comedian and, as told by his doctors who tried so hard to keep him with us, he was telling jokes right up until his last moments.

He is predeceased by his parents; his brothers Raoul, Roland, Emery, Vincent, Rosario, Adrian, Gilbert, Roger and Michael, his sisters, Stella Caron, Theresa Raynes and Leona (Chick) Michaud, and his former wife Pauline St. Amand. He is survived by his sister Hazel Rackliff of Gardiner, his brother Norman St. Amand and wife Carol of Brewer; and his 11 children, Marlene Webber St. Amand of Augusta, Audrey Brann Shorty of Windsor, Cecile Tardiff of Randolph, Karin Cook and husband Bill of South China, Kim St. Amand and partner Daniel Colby of Jefferson, Joseph St. Amand, Jr. and wife Susan of Farmingdale, Bernadette St. Amand of Palermo, Mark St. Amand, Sr. and wife Debbie of Windsor, Tamra St. Amand of South China, Stacey St. Amand of Vassalboro and Jillian St. Amand of Windsor; and he was "Pappy" to 26 grandchildren and 34 great-grandchildren; and Uncle Joe to many, many nieces and nephews.

This is a tribute written by one of his granddaughters "Our family is a circle of strength and love with every birth and every union the circle grows. Our family is a circle of strength, every crisis faced together makes the circle stronger." Our circle started with this man and today our hearts hurt for our families, our aunts and uncles and cousins whom loved this man unconditionally. With 11 children and 60 grand and great-grandchildren, we can't imagine there will be a day you are not remembered. RIP PAP!

There will not be any visiting hours. A Memorial Mass will be celebrated at 11:30 a.m., on Saturday, Dec. 9, 2017 at St. Denis Catholic Church in Whitefield. A gathering will be held immediately following the Mass at the church hall. There will not be any graveside service. Cremation arrangements were made through Direct Cremations of Maine, 182 Waldo Ave., Belfast.

Funeral Home : Direct Cremation of Maine, 182 Waldo Avenue, Belfast, ME 04915. 207-338-1433.


Commentaire

Il était le fils de Leon St. Amand et d'Eva Cys; le petit-fils de Joseph St-Amand et d'Élizabeth Ann Rossignol; l'arrière-petit-fils de Bernard St-Amand et d'Éléonore Miville-Deschênes. Il est un descendant de Michel Lebrette dit St-Amand.