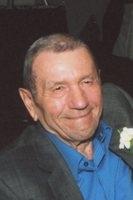 Euclide R. "Yogi" Cyr, 90, of Danbury, beloved husband of Carmen (St. Amand) Cyr, died peacefully at his home on Sunday, July 16, 2017. He was born in St. Andre, New Brunswick, Canada on August 31, 1926, son of the late Willie and Jane (Marquis) Cyr.

Yogi worked as a sheet rocker retiring from the Local Union #210 after many years, and previously worked for Danbury Drywall. He was involved with many projects, including high rise buildings in Stamford, and the Stroock Tower at Danbury Hospital. He was a parishioner of St. Peter Church in Danbury, and was active in the Knights of Columbus in his younger years. Yogi was happiest spending time visiting with family and friends, especially his grandsons and great-granddaughters. He was an avid fan of the Boston Red Sox.

In addition to his cherished wife of 62 years, Carmen, he will be sadly missed by his two children, Doreen Vegerano and her husband, Dimas, Roger Cyr and his wife, Noreen, all of Danbury; his grandchildren, Jason Vegerano and his wife, Teresa, Bryan Vegerano, and Justin Cyr; his two great-granddaughters, Arianna and Aubrey Vegerano. He is also survived by his brothers, Gaston and Jean Paul Cyr; his sisters, Ann St. Pierre and Hugette Cyr; and many nieces and nephews.

Funeral services will be held at the Cornell Memorial Home, 247 White Street, Danbury, on Thursday, July 20 at 6:30 p.m. Cremation and interment in St. Peter Cemetery will be held at a later date. The family will receive friends at the funeral home on Thursday evening between the hours of 5:00 and 6:30 p.m.

In lieu of flowers, memorial contributions may be made to the American Heart Association. To light a candle please visit www.CornellMemorial.com.


Commentaire

Son épouse, Carmen St. Amand, est la fille de Thomas St-Amand et de Sophie Durepos; la petite-fille de Stanislas St-Amand et d'Olive Rioux; l'arrière-petite-fille de Bernard St-Amand et d'Éléonore Miville-Deschênes. Carmen est une descendante de Michel Lebrette dit St-Amand.