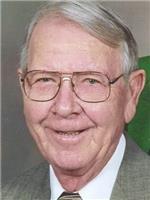 Funeral services will be held at the Episcopal Church of the Ascension in Lafayette, LA on Saturday, May 20 at 2:00 PM preceded by visitation at 1:00 PM for Parker Haile St. Amant.

He died on May 16, 2017 at age 92. He was born on December 27, 1924 in Baton Rouge, La. and lived there until June 1963 when he moved his family to Lafayette.

He had begun working at the Standard Oil Company of Louisiana as an office boy in 1941 and worked his way up to Manager of Computer Operations and subsequently Computer Systems Analyst. The Standard Oil Company had needed more data processing power than the old electronic accounting machines made available and had leased the first business computer ever made, the IBM Model 705. Parker had graduated from L.S.U. with a B.A. in Business Administration and a major in Accounting, but after working with the new computer system he decided his career path would be in the field of data processing. He used his knowledge of accounting principles to design and program accounting systems. He decided that his future lay in finding work in that area where he would have more control over the use of a computer and was hired with the position of Vice President in Charge of Data Processing with All American Assurance Co. in Lafayette in 1963. His career path continued as Co-Owner of Datamatic, Inc., a computer service bureau, and finally Director of Data Processing with SLEMCO, an electric membership cooperative corporation servicing Southwest Louisiana, from which he retired on January 2, 1990.

Parker was a veteran of World War II, having served in the U.S. Army Air Corps as a bombardier and radar observer.

His hobbies were building a genealogical record of his ancestors, playing golf, deer hunting, and working in the yard. He was a member of Oakbourne Country Club for over fifty years.

A devout Episcopalian, he was very active in the Church of the Ascension, becoming a licensed Lay Reader/Chalice Bearer, Eucharistic Minister and Worship Leader.

Parker was preceded in death by his parents, Chester Phillips St. Amant, Sr. and Ethel Fleniken St. Amant, and his only brother, Dr. Chester Phillips St. Amant, Jr. He is survived by his wife of 70 years, Edna Torres St. Amant, his two sons, Dr. Robert Parker St. Amant and his wife Claudette LeBlanc St. Amant, and Dale Keith St. Amant and his wife Jerrie Premeaux St. Amant. He is survived by six grandchildren and their spouses, Dr. Brandon Scott St. Amant and Mellisa Nelson St. Amant, Lindsay Anne St. Amant Seely and Brian Patrick Seely, Craig Robert St. Amant and Lacey Rowinsky St. Amant, Brent Alan St. Amant and Christine Hoyle St. Amant, Amber Dale St. Amant Robinson and Randall Allen Robinson, Claire Suzanne St. Amant Simmons and Riley Edward Simmons. He also is survived by 10 great-grandchildren, Riley, Madeleine, Logan, Noah, Connor, Cohen, Addison, Max, Will, and Ben.

Special thank you to the staff and members of St. James Place, Mother Mary Ann Garrett, Drs. John Bernard, Rob Chasuk, Thomas Caton, Chris McCanless, Boyd Helm, Robert Landry, Martin Langston, Robert Hinkle, and The Hospice of Baton Rouge for their excellent care and concern.

In lieu of flowers, donations in his memory are requested for the Episcopal Church of the Ascension, 1030 Johnston St., Lafayette, La. 70501.

Funeral Home: Rabenhorst Funeral Homes Downtown, 825 Government Street, Baton Rouge, LA 70802, (225) 383-6831.


Commentaire

Il était le fils de Chester Phillips St. Amant et d'Ethel Fleniken; le petit-fils de François St. Amant et de Sarah Lucy Haile; l'arrière-petit-fils de Venance Daspit de St-Amant et d'Amélie Asselin. Il est un descendant de Bernard Daspit de St-Amant.