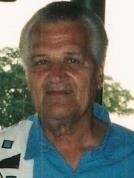 "I am the resurrection, and the life: he that believeth in me, though he were dead, yet he shall live: And whosoever liveth and believeth in me shall never die." John 11:25-26.

Beloved Dad to his children, Paw Paw to his grandchildren and Brother Sullivan to the many thousands of people he served, passed over to his heavenly home on Friday, April 21, 2017 at 7:40 a.m. in Zachary, LA at Lane Regional Medical Center. He was 85 years old.

Lewis was born in Hammond, LA on January 2, 1932, and spent the last 50 years of his life as a resident of Zachary. He was a veteran of the U.S. Army and served in the Korean Conflict. He also served as a Baton Rouge Police officer for 6 years early in his ministry, where he became known as the "Pistol Packing Preacher".

Rev. Sullivan was an ordained minister with the Assemblies of God for 60 years, serving as Pastor of Faith Worship Center in Baton Rouge. For the last several years he served as Pastor Emeritus, the ministry being continued by his son, Ricky. Brother Sullivan was a man of God known for his fiery sermons and his great sense of humor. He always had a harmonica, tambourine and magic tricks for the kids. During his ministry, Lewis and his right hand, his beloved wife Jane, developed, produced and mentored over 70 ordained ministers who are preaching the Gospel around the world. He believed in spreading the gospel to all nations, having conducted over 140 mission trips to Mexico and Africa over the years. The number of souls led to Christ during his ministry is in the tens of thousands, along with many miracles of divine healing witnessed as well. Heaven has truly received an angel.

Lewis is survived by his children and their spouses, Jacqulyn and Gregory Fordyce, Peter and Mary Sullivan, Lajuanda and Tim Daigle, Lewis "Ricky" Jr. and Sondra Sullivan, and Bret and Sherlyn Sullivan; 16 grandchildren and 17 great-grandchildren; sisters Anna Mae Hart, Henrietta Newman, Annie Laura Tompkins, and Billie Joyce Accardo; brother James "Jimmy" Sullivan. Preceded in death by his beloved wife, Hellen "Jane" St. Amant Sullivan, parents James and Mildred Sullivan and his older sister Geneva Venuto.

Due to the impact of the August flood on Faith Worship Center, relatives and friends are invited for visitation at Acacia Church, 10051 Siegen Lane, Baton Rouge, on Tuesday, April 25, from 6 p.m. to 9 p.m. Visitation will continue at Acacia Church on Wednesday, April 26, from 10:00 a.m. until funeral service at 11:00 a.m. Interment in Faithful Cemetery in St. Amant, LA.

"Don't cry when I am gone, my life has been so blessed. You see the road was long, but now I am at rest. I had such joy and happiness, and was surrounded by so much love. But now I'm gone to meet my Father, in my Heavenly home above. There will be no tears of sorrow, to wet the streets of gold, when my Savior comes to meet me, and my hand He will hold. He will say, "Come my Child," we have someone to see, He'll take me to my family that went home long before me. It will be a great reunion, as we meet our loved ones there, and we will live for all eternity, where there will be no burdens to bear." Delta Trabeaux Keith.


Commentaire

Son épouse, Hellen "Jane" St. Amant, était la fille de Peter St. Amant et de Zemly Singletary; la petite-fille de Felix St. Amant et de Cathrine Acy; l'arrière-petite-fille de Pierre St. Amant et d'Elisabeth Montgomery. Hellen est une descendante de Bernard Daspit de St-Amant.