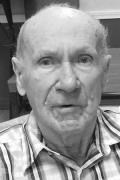 Dracut -- Paul J. Bouvier, a Dracut resident and beloved husband of Margaret (St. Amand) Bouvier, died on Friday, January 20, 2017, following a period of declining health. He was 87. Born in Wilmington on June 30, 1929, he was a son of the late Damascus and Helen (Filiatreault) Bouvier.

Paul served in the United States Coast Guard and then served in the U.S. Air Force during the Korean War. Paul enjoyed carpentry throughout his life. He was a carpenter working for the Carpenters Union Local 26. During his down time, Paul enjoyed reading and crossword puzzles. He was always puttering around his house and yard. He took great pleasure in caring for his lawn.

Surviving him besides his wife of 66 years are his daughters and son-in-law, Mary and Douglas Hamilton of Dracut, Doreen Bouvier of Boxboro; eight grandchildren; nine great-grandchildren; a sister, Theresa Frenette of Lowell; and several nieces and nephews. Paul was predeceased by his son, Paul J. Bouvier, Jr., and daughter, Patricia Settanny.

It being his request, calling hours are omitted. His Memorial Funeral Mass will be celebrated on Thursday at 10:00 AM in Ste. Marguerite Parish, 1340 Lakeview Ave. Dracut. Burial will be private.

For condolences and directions, please visit www.mckennaouellette.com.


Commentaire

Son épouse, Margaret St. Amand, est la fille de Séraphin St. Amand et d'Exérine Jetté; la petite-fille d'Ambroise "Napoléon" St-Amand et de Lina Hébert; l'arrière-petite-fille de Philippe "Isaac" St-Amand et de Marie Louise Poirier. Margaret est une descendante de Michel Lebrette dit St-Amand.