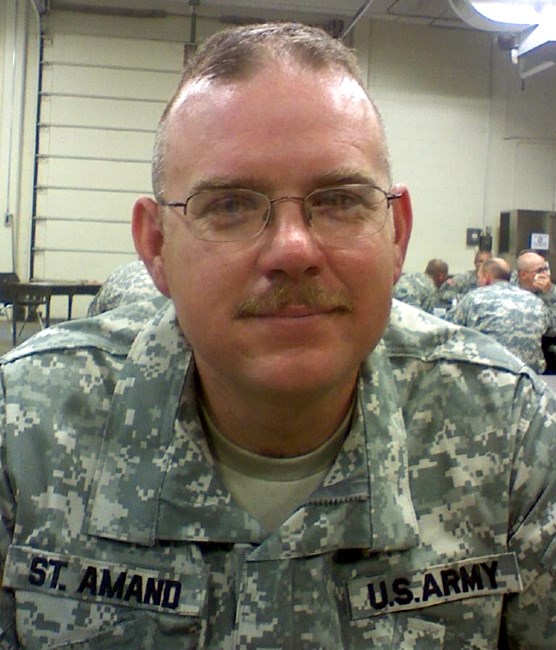 Auburn – Phillip A. St. Amand, 46, passed away at his home on Tuesday, May 3, 2016.

He was born in Fayetteville, NC on November 5, 1969 the son of Joseph and Jeannette (Morin) St. Amand. Phil grew up in Durham and graduated from Edward Little High School. He devoted his life to his country, as he served as an active member in the United States Army Reserves having done two tours in Iraq. Phil's highest rank held was Sergeant First Class E-7. He was an active member in various groups in his community including the Wounded Warriors Project, the Veteran's Adaptive Sports and Training (V.A.S.T.), Oddfellows, and was involved in Maine archery. A perfect day for Phil would involve taking his wife, Giselle and his daughter, Kayla out fishing on Wortheley Pond in Auburn. When he had time to himself, he loved working on his cars, and anyone who has been to his house would know that his property is filled with his various projects. While involved with the military, Phil worked for the State of Maine as a mechanic where he did numerous jobs.

Phil is survived by his wife, Giselle of Auburn; his daughter, Kayla of Gorham; his parents of Moravia, NY; his sister, Lisa and her husband Ike Swayze of Moravia, NY; and his service dog, Brandy who was his trusted companion. He was predeceased by his fallen brothers in the military.

Friends and family are invited to share memories or offer their condolences by visiting Phil's online guestbook at www.thefortingroupauburn.com.

In lieu of flowers, donations can be made to the Wounded Warriors Project at https://www.woundedwarriorproject.org/ or by mailing a check to PO Box 758517 Topeka, Kansas 66675.

A visitation will be held at Fortin/Auburn on Tuesday, May 10, 2016 from 9-12 pm. Funeral Service will be celebrated at Fortin/Auburn on Tuesday at 12 pm. Committal service will follow at the Maine Veteran's Memorial Cemetery on 163 Mt. Vernon Rd. Augusta, ME. A service of The Fortin Group Funeral Home Cremation and Monument Services 217 Turner St. Auburn, ME 783-8545.


Commentaire

Il était le fils de Joseph Edmond St-Amand et de Jeannette Morin; le petit-fils d'Edmond St-Amand et d'Irène Bélanger; l'arrière-petit-fils d'Edmond St-Amand et d'Osithée Bélanger. Il est un descendant de Michel Lebrette dit St-Amand.