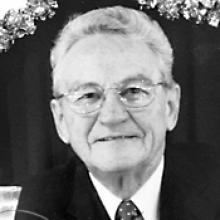 On Saturday June 6, 2015 surrounded by his family, Roméo St. Amant peacefully passed away at the St. Boniface General Hospital.

He is predeceased by his parents, Clovis St. Amant and Yvonne (Grégoire), brother Marc, sister Raymonde Bazinet, sister-in-law Rose and brother-in-law Herman Labossière.

Dad will be affectionately remembered and deeply missed by the love of his life, his caring wife of 61 years, Cécile (Chouinard), as well as his children Suzanne (Paul André), Danielle (Cal Wookey), Carole (Howard Schulman), Jacques (Debbie) and Pierre (Collette). Missing his soft spoken and gentle soul are his grandchildren Natalie (James Stefishen), Jean-Paul (Suzanne), and Joel André; Janelle (Casey), Jérémie (Alex) Wookey; Sarah Schulman; Rochelle, Justin and Julien St. Amant as well as his great-grandchildren Mia and Sélina Stefishen; Rielle and Alexandre André and Santiago André. Pépère was a warm and mischievous trickster with a hearty chuckle and a proud smile. Roméo, the eldest of his siblings will also be fondly remembered by his brothers and sisters Fernand (Lucille), Annette Bazinet (Henri), Isabelle Labossiere, Gilles (Doris), Georges(Pat), Eveline Shiewe (Wilfred), Bernard (Barbara) as well as many cousins, nieces and nephews. He also leaves his in laws Cora St. Amant and Roland Bazinet. He will also be warmly remembered by his in-laws Thérèse Morin, Alice Plamondon, Denis (Doreen), Eva Fréchette (Raymond), Adéline Major (Jim), Victor (Cecilia), Lucien, and Lucille Neufeld (Stan).

Dad was born in St. Jean-Baptiste on February 17, 1930. As a young man, he began his professional career in 1948 as a banker at the Banque National du Canada in St. Jean-Baptiste. He went on to work at the St. Boniface and St. Pierre branches and in 1968 moved back to Winnipeg to act as manager of the new Portage Avenue branch. He ended his banking career at the Caisse Populaire de St. Boniface in 1993. He was well respected and beloved by his colleagues and clients. Dad never really retired, working as a Bilingual Arbitrator for the federal board of referee until he was 83. Over the course of his life Dad was an active member in the community. Fondly recognized and remembered as an honourable, trustworthy and loyal man, he served on many boards and volunteered and contributed to many organizations in various roles, the last being his involvement at Place Eugénie where he resided. He was a member of the Knights of Columbus since 1957.

Dad and mom enjoyed many blissful years as Snowbirds, travelling south to Mesa, Arizona. He also had the opportunity to travel to Alaska, Yukon, France, Hong Kong, Jamaica, Trinidad, and Mexico. His greatest joy was being surrounded by his family. Dad was always willing and ready to help. No project was ever too big or small whether it was moving a garage or chasing squirrels out of attics. We enjoyed many camping trips, summer trips around Canada and many years of fun at the cabin in the woods in Richer. He enjoyed fishing and canoe trips with his sons, grandsons and sons-in-law.

Special thanks to Dr. P. G. Mehta. Profound appreciation to the staff (especially the Dream Team) and volunteers on the Palliative Care unit at the St. Boniface Hospital.

In lieu of flowers, please make a donation to the St. Boniface Hospital Foundation C1026-409 Tache Winnipeg, MB R2H 2A6. In honor of dad's memory, inspire kindness and pay it forward.

Eulogy will be at 10:00 a.m. followed by the funeral mass at 10:30 a.m. at the Précieux-Sang Church, 200 Kenny Street, Winnipeg on Friday, June 12, 2015 with Father Léon Mubikayi officiating.

Au revoir Dad, puisse Dieu t'accueillir auprès de lui. Au revoir Dad, reposes en paix, tu le mérites, car tu as admirablement accompli ta mission, Au revoir Dad, tu nous manques énormément.

Desjardins
233-4949 1-888-233-4949
www.desjardinsfuneralchapel.ca


Commentaire

Il était le fils de Clovis St-Amant et d'Yvonne Grégoire; le petit-fils de Georges St-Amant et d'Albina Comeault; l'arrière-petit-fils de Louis-Léon St-Amant et de Mary-Vitaline Bouillé. Il est un descendant de Mathurin Robert dit St-Amant.