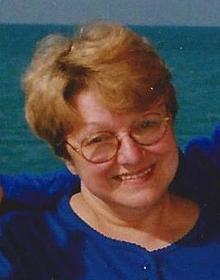 Joanne St. Amand Geary, age 70, passed away peacefully at her home on March 29th, after a brave battle with Frontotemporal Dementia (FTD).

She leaves behind her devoted husband, Richard J. Geary, her daughter Marlene Geary, her son Brett Geary, and brother-in-law Glenn Geary. Joanne is predeceased by her parents Lawrence and Blanche St. Amand, and her brother, Jerry St. Amand.

Joanne was born on April 24th, 1943, in Hartford, CT. She was grew up in Hartford, graduated from Hartford Public High School, and felt a strong and loving kinship to the city in which she was raised. Joanne and Richard were married on August 20th, 1966 and they built a wonderful family life together first in East Hampton and then in South Glastonbury.

Joanne worked in Engineering at Pratt & Whitney for seven years, after which she became a stay-at-home mom for sixteen years. Joanne then worked at Glastonbury High School and the Hartford Hospital Jefferson MRI unit. She cared deeply about the elderly and earned a graduate certificate in gerontology from St. Joseph College in Hartford. She spent her last working years as the manager of a senior housing complex in Hartford and serving on the board of Hartford's North Central Area Agency on Aging.

Joanne was a published poet and an accomplished writer of haiku. She was a talented cook. Joanne loved poetry and she loved to read.

Joanne and Richard shared an immense love for dogs and in her last years, their pointers offered her much comfort. Both Joanne and Richard loved to visit Cape Cod and Maine, and would often take last-minute weekend trips.

Surviving Joanne are many cousins and their families, as well as devoted friends. Joanne loved them all. Her children made her immensely proud and they will miss her deeply. Her husband Richard was the most special person in her life and her best friend. He worked very hard to ensure that she was able to stay home throughout her illness, caring for her until the very end.

Special thanks go to CNA Sarah Megson, who cared for Joanne during her last year and a half. Thanks to CNA Lesli Cannon as well as the We Care Home Care agency of Glastonbury. Thanks also go to VNA Hospice Care nurse Kelly Goulet, CNA Maria Matos, CNA Amy Leibenguth.

Calling hours will be 4-8pm on Thursday, April 3rd, at the Mulryan Funeral Home, 725 Hebron Ave, Glastonbury, CT. A blessing will be held at 7pm, after which visitors are invited to share their memories of Joanne. A Mass of Christian Burial will be celebrated on Friday April 4, at 10am in St. Paul Church, 2577 Main St., Glastonbury (everyone is asked to please go directly to church). Burial will follow in Old Church Cemetery, Glastonbury.

In lieu of flowers, it would be appreciated if donations in memory of Joanne could be sent to the VNA Healthcare, 969 Hebron Ave., Glastonbury, CT. 06033.

For online condolences please visit www.mulryanfh.com.


Commentaire

Elle était la fille de Lawrence Henri St-Amand et de Blanche Dubé; la petite-fille d'Ubald St-Amand et d'Alice Michaud; l'arrière-petite-fille de Jean-Baptiste dit Henri St-Amand et de Flavie Beaulieu. Elle est une descendante de Michel Lebrette dit St-Amand.