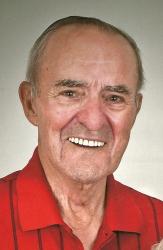 At the Grand Falls General Hospital, February 28, 2012, Mr. Noel St-Amand of Saint-Andre passed away at the age of 88 years. He was married to the former Orise Ouellette and had been living at Mont-Assomption for the past few months. Born at Saint-Andre in 1923, he was a son of the late Thomas and Sophie (Durepos) St-Amand.

Mr. St-Amand was a farmer most of his life and had been a janitor in area schools prior to his retirement. He was a member of the Grand Falls Golden Age Club.

He is survived by his wife, also a resident of Mont-Assomption, seven children, Nicole Caron (Normand) of Drummond, Ronald (Pierrette) of Edmonton, Alberta, Yvon (Cathy) of Beresford, Ginette Ouellette (Renaud) of Grand Falls, Pauline St-Amand (Reginald) of Saint-Leonard-Parent, Gilles (Carole) of Brampton, Ontario and Chanel (Isabelle) of Granby, Quebec, his daughter-in-law, Gaetanne St-Amand (late Rino) of Wainwright, Alberta, 21 grandchildren, nine great grandchildren, two sisters, Cecile Laforest of Edmundston and Carmen Cyr (Euclide) of Connecticut, as well as nieces and nephews. He was predeceased by three children, Rino, Alyre and Aline, brothers, Martin and Romeo, sisters, Eva Cyr, Marie Page, Marthe Dube and Jeannette Michaud Laforest.

His funeral service was held Monday, March 5th at 11 a.m. from the Saint-Andre Roman Catholic Church with Father Lucien Levesque officiating, assisted by Father Frederic Poitras and Father Roland Poitras. The pallbearers were Alain Ouellette, Chanel Dube, Mario Laforest, Joshua St-Amand, Jasmin Theriault and Daniel Caron. Interment was in the adjoining cemetery.

Arrangements were by O'Regan's Funeral Home Ltd. www.oregans.ca.


Commentaire

Il était le fils de Thomas St-Amand et de Sophie Durepos; le petit-fils de Stanislas St-Amand et d'Olive Rioux; l'arrière-petit-fils de Bernard St-Amand et d'Éléonore Miville-Deschênes. Il est un descendant de Michel Lebrette dit St-Amand.