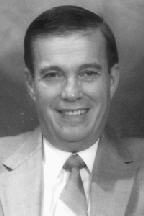 St. Amant, Jack, 80, passed away January 20, 2008, after a long struggle with leukemia.

He was preceded in death by his eldest son, Larry. Survivors include his wife Sara (Wilson); sons, Paul (Gloria) and Douglas; his daughters, Pamela Labadie (Denis), Susan Melton (Jim) and Lea Heyer (John); 11 grandchildren; two great-grandchildren; and siblings, Rosalie Garafoli, Mary Wilson, Robert St. Amant, Alfred St. Amant and Edith Tobel.

Jack was a native of Tampa. He served in the U.S. Navy during World War II. He retired as a railroad engineer from CSX after 41 years of service.

A special thanks is given for the loving care from his family.

In lieu of flowers, donations may be sent to the St. Francis Catholic Church to aid the needy and homeless.

The family will receive friends 6-8 p.m. Monday, January 21, at Garden of Memories Funeral Home. The Mass of Christian burial will be offered at noon January 22 at St. Francis of Assisi Catholic Church, 4450 County Road 579, Seffner, Fla.


Commentaire

Il était le fils d'Edward Edmund dit Eddie St-Amand et d'Annie Newman; le petit-fils de Francis "Cead" St-Amand et de Virginia Elizabeth Labadie; l'arrière-petit-fils de Juste François Xavier dit Louis Juste St-Amand et de Marie Gamache. Il est un descendant de Michel Lebrette dit St-Amand.