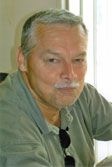 Jean-Paul Lachapelle of New Liskeard died June 2, 2006 in Munich, Germany. He had been ill with lung cancer.

He was born in Belle Vallée on October 20, 1951 to Aldéa Ménard and Emile Lachapelle. Educated at George Brown College in Toronto, he was a local businessman. He married Diane St. Amant in Belle Vallée on October 7, 1972.

Mr. Lachapelle is survived by his parents Emile and Aldéa, wife Diane, son Daniel and daughter-in-law Tina, granddaughters Alexis and Emilie, daughter Claire and son-in-law Michel, and by his brother René.

The funeral was arranged by Perrin Funeral Chapel in New Liskeard with the service conducted by Chantal Durling. Pallbearers were David, Eric and Patrick Lachapelle, Sylvain and Patrick Chartrand and Stéphane Laferriere. Cremation has taken place.


Commentaire

Son épouse, Diane St. Amant, est la fille de Jean St-Amand et de Marie-Claire Lachapelle; la petite-fille de Clovis St-Amant et d'Armoza Labonté; l'arrière-petite-fille de Louis St-Amant et de Sara Pleau. Diane est une descendante de Mathurin Robert dit St-Amant.